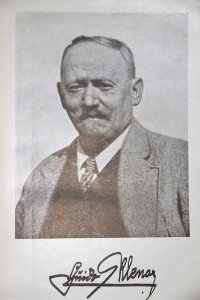 In 1871, on the 15th of June, Guido Sklenar was born in the small town of Carpano, near the then Austrian naval port of Pula in Istria. The father by profession instrument maker, later piano and organ builder came from Teschen in Moravia, his mother from Olomouc also Moravia. At the age of 4 Guido moved with his parents and siblings after his father Sklenar had finished his work in Istria, after Teschen a.d. Olsa. Here he spent his youth, visited the Teschen a.d. Olsa. Here he spent his teenage years, attended the elementary school, 4 classes Realgymnasium and then, like your three siblings, the teacher training institution.
Guido Sklenar would be described as a typical "monarchy of Austrians". Born in Istria, youth and education in North Moravia and later in the profession teacher and headmaster in Lower Austria. Weinviertel, which should become his true home. Already in his earliest childhood Guido was interested in everything that had to do with nature and already started working as a "breeder". At first there were only mealworms for his great tit or silkworms to improve his pocket money.
Also his father's hobby, the refinement of fruit trees, he learned very quickly and it was later one of his many hobbies.
Guido Sklenar was a very versatile person!
He was not only the later most successful queen breeder, but also dealt previously with the breeding of e.g. Hunting dogs, canaries with which he made all sorts of crossbreeding experiments, also the botany fascinated him. Brushing dahlias and cultivating roses, etc. filled his spare time. One of his great passions was hunting, which he pursued until he was seventy.
He was also an excellent musician and played the violin, viola, cello, bass violin, piano and organ perfectly. In his life he has taught innumerable children the handling of many instruments, voted hundreds of pianos and organs, played in various musical groups, whether entertainment or chamber music, which he loved most and was in some communities as Regenschori (conductor of the church choir ) and organist. Then there was the fire department, which desperately needed a secretary, the local savings club looking for a reliable and honest cashier and some students who needed urgent tutoring.
Guido Sklenar made his first acquaintance with the bees at the school's apiary of the teacher training institute and was immediately enthusiastic about this profession. When saying goodbye to the professors' college after graduation, his natural science professor said to hm: "You must become a beekeeper." Has the experienced pedagogue already recognized the talent in his approaches?
August 1, 1890: Guido Sklenar is appointed a junior teacher in Bullendorf near Mistelbach, a small town in the Lower Austria, Weinviertel, where he spent four years. Since his time was probably not filled, the ambitious teacher engaged in the prairie of various animals. His preparations (crows, buzzard, weasels, Zeisel, etc.) he sold with the approval of the Provincial School Council to schools in Lower Austria, some provinces to Tyrol, even to Bohemia and Moravia. After ten years working with the highly toxic arsenic preparation, he had to give up this interesting hobby and additional source of income with a heavy heart, because already at that time saved Guido, who had grown up in a strict home, every penny to once to create their own home.
In 1894 we Guido Sklenar at his own request to Mannersdorf at Orth / D. Gänserndorf district offset. Before leaving he became engaged to his future wife Johanna Merhulik, whose father, master tailor in Vienna, in Kettlasbrunn near Mistelbach a summer house and a handsome apiary with 36 peoples possessed. Father Merhulik had dishonorable respect for his bees, his eyesight being Guido's biggest betrayal was the constant use of his huge smoking machine, so that Guido finally took the apiary by mutual agreement. In his memoirs he writes as follows: "So two flies were killed for me in one fell swoop, my Hannerl educated me by their extraordinary kindness and immutable fidelity to a good husband, father Merhulik by his apocalyptic vices to a capable beekeeper."
1896 At the end of June Guido Sklenar marries and in 1897 takes over the school expo in Schlosshof / District Gänserndorf Lower Austria. His wife is employed as a handwork teacher in Schlosshof and the neighboring Markthof. Here, Guido was able to operate sufficiently insanely, as the senior teacher of Markthof called a larger apiary his own, and he always picked up his wife from the service in Markthof anyway.
He also had a cordial friendship with the neighboring beekeepers from Groissenbrunn. In Schlosshof also the first child, a daughter was born. Not only the first-born daughter, but later also a six-year-old. a fourteen-year-old son was killed by misfortune. Guido Sklenar survived only son Otto and daughter Hansi, who was his closest associate until his death.
In 1898 Guido Sklenar became a definitive teacher in Spannberg / Bez. Gänserndorf a larger school with four male teachers and wife Hannerl as a handwork teacher. For most of the year he looked after the bee colonies of his superior, Senior Teacher Parth, who was very sickly and often unable to work for months. During a walk through Spannberg one often passes by many a tree that comes from Guido Sklenar's nursery. This was located, consisting of four large flower beds in the school garden. According to his own information, he not only supplied interested buyers, but also provided annually 200 finished fruit trees to the community.
n 1906, Sklenar finally got the long-awaited position of a headmaster in Hauskirchen / Bez. Mistelbach. His predecessor should have been a notorious drunkard and the second teacher, a teacher, could not prevail in the two-class run school. But very soon, as expected, he had put the school back in order and was finally able to set up his own apiary in the school garden. He also took over the remaining bee colonies from his father-in-law from nearby Kettlasbrnn. In a short time his estate had grown to 154 colonies. His pride, however, was his twenty-two self-made barley hauls, which he had made expertly, for at his father's parental farm in Teschen he learned, and not always to his joy, to deal with chisels and planers from an early age.
Guido Sklenar was a freelance contributor to various trade publications, including the "Bee Father", where he spent years as a "questionary uncle". He was u. a. short time president of the Lower Austrian Beekeepers' Association, later member of the "Main Committee of the Austrian Reichsverein". Additionally founder and first chairman of the "Austrian Queen Breeders Association", which was conducted after strict by many countries adopted bylaws, and chairman and later honorary chairman of the beekeeping clubs Großkrut Mistelbach.
In addition to hunting Guido also engaged in the breeding and training of hunting dogs. In this area he must have been a great expert, because one often finds among his customers prominent names such as Prince Ybsilanti, Count Münser-Langenlage, Count Branditz, Baroness Motesitzky, Baron Silberstein, etc. But his greatest passion was beekeeping, so that gradually all other activities were pushed into the background. Guido Sklenar was forced to start breeding queens. His top people wanted and did not want to rave and our Guido wanted to indulge unconditionally and at any price only from this people. After thorough study of specialist literature from Switzerland on breeding, Sklenar acquired the necessary basic knowledge.
Already in the first year he was able to hibernate 30 colonies with 47-daughters, the foundation stone was laid for the later known worldwide queen bee breeder Guido Sklenar.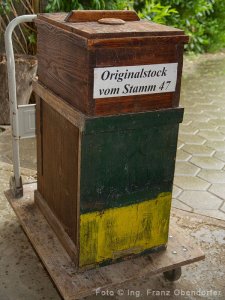 Where did this strain 47, the later Sklenar bee, come from? Guido Sklenar was asked this question often and often, and he answered it in his own frankness as follows: "Most of all, I am asked about the origin of the tribe 47. I really do not have an exact answer to that. From my father-in-law I took over 36 bee colonies in the neighboring town of Kettlasbrunn, and among them I found him, so he is not my own breeding product, at least not in his origin. My merit ist just that I recognized him, cared for him carefully, as was the case with other valuable tribes in many places, and that I had bred him methodically and systematically in decades of laborious work, that is, to promote all his good qualities and to eradicate all undesirable peculiarities. According to the ancestry, strain 47 belongs to the Lower Austria. Bee race, so a Carnica branch, which already Ehrenfels singing its high praises for its many virtues."
"In the old days it was housed in an old, rather moldy prey, whose number I can not remember. I made new hives myself, and in one came the original tribe, and so the colonie was baptized tribe 47." Tribe 47 or the "gray miller" as they were lovingly called by Guido Sklenar, is therefore the mother of the later Carnica / strain Sklenar.
This "renaming" took place in 1939 on the occasion of the opening of the mating station "Hirschgrund" in Mistelbach, in honor of its original breeder Guido Sklenar. Sklenar never saw himself as a scientist, but as a man of practice, pursuing his goal with diligence and perseverance.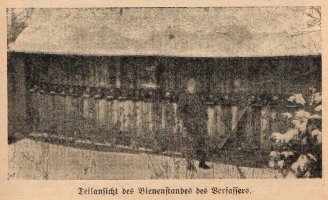 In professional circles he was already known for his work on some journals and so it was inevitable that he was soon pressed by many beekeepers to hold a queen breeding course. He announced this in his journal "My Bee-Mother" and fell from the clouds when 200 participants registered for this first course. This course was held in two parts and more followed, so that the small Weinviertel village Hauskirchen soon developed into a "mecca" of interested queen breeders. The participants came from different social status. In a single course e.g. 1 General, 4 Colonels, 1 simple soldier, who was assigned to this course, pastors, doctors, teachers, civil servants, merchants, farmers, craftsmen, etc., all united by a small inconspicuous nature - our bee. With many course participants Guido Sklenar has made a friendship for life. Unfortunately, all guest books were completely destroyed during the fire in 1945.
In 1922, in the summer, after Guido Sklenar retired after 32 1/2 years of service, he moved with his family to the newly built house in Mistelbach, Waisenhausgasse 14, where a new apiary was also awaiting its new inhabitants. From now on, Guido devoted himself almost exclusively only to beekeeping, supported by his daughter Hansi (she was later called Hannerl by friends, for father Guido she was always his Hansi) and later after 1946 also by son-in-law teacher Hans Weber, the later High school principal and principal school director in Mistelbach.
In 1922, the first edition of his newsletter "Mein Bienenmütterchen" ("My Bee Mother"), which brought it in his heyday to a circulation of 12,000 pieces. It was published monthly and was continued after his death in 1953 by daughter Hannerl Weber-Sklenar. After their surprising demise in 1983, it was taken over by the "International Federation of Sklenarzucht e.V." (IBSZ eV), founded in 1955 and headquartered in Germany.
In 1923, Guido Sklenar published his most important work "Imkerpraxis" ("Beekeeping Practice"), which was constantly updated in the sequence. It still counts today, especially because of Guido Sklenar's own writing style, as one of the most important textbooks for the young beekeeper.
In particular, Part II, where Sklenar deals exclusively with breeding practices is designed in a very vivid manner, so that even beekeepers who have not yet dealt with the queen breeding easily understand the principles of breeding to be observed.
In 1932, Guido Sklenar became the then Federal Chancellor a. Minister of Agriculture Dollfuss awarded the title Economics Councilor for his achievements in the field of Austrian beekeeping. 1935 in an issue of the journal "Mein Bienenmütterchen" was published that "there are already 109 registered breeders of the tribe 47, uzw. 24 in Austria, 76 in Germany, 8 in Czechoslovakia and one in Poland". In 1939 there were already 241, the tribe 47 bred with great enthusiasm and equally successful, which led to the then German beekeeper's association decided to build for this bee in Mistelbach the largest mating station of the German Reich. In a short time, a stable wooden construction in Swiss style, with a covered porch, the main room for the establishment of the father hives and a living- and bedroom built for the leader of the mating station. For the disposition of the one-comb-boxes, because only those were admitted because of the better control on drones and eggs of the queen, an area of ​​approx. 12,000 m 2 was available.
On May 21, 1939, the matingstation Hirschgrund was opened. Read more in the chapter Belegstelle Hirschgrund.
But soon heavy storm clouds appeared on Guido Sklenar's breeders heaven. He was asked to fully recognize the examination for breed certification, which was incompatible with his "achievement progress" principle. He also justified this in his answer letter with the remark that he would not act against his innermost conviction due to decades of experience with breeders and that he also did not take responsibility for the sins of the breeders of his tribe because he was reproached for having suffered his ranks also unreliable breeders, which would lead to the conquest of his tribe.
And that's how it came about - strain 47 was cut, if only for a short time. The stumbling block was a slight splash of brown on the first tergite, which was present on some lines of every 50th bee. Sklenar thought that this inconsequential feature would not be outrageous. Here our revered old master was wrong, because it is his successors - here has master beekeeper Anton Schleining certainly special four services acquired - managed to breed a uniform gray, which in today's time would not be of crucial importance.
Interesting is also the proven fact that the same master of examination for breed certification, who at that time had to renounce Sklenar's tribe, awarded 99 out of 100 points to be awarded to the drone on the mating station Hirschgrund and to the one on the mating station St. Egyden, who was also commissioned by Guido Skleanar, was even rated with the maximum 100. The fact that this unpleasant incident was ignored in any way by the many breeders of the Sklenar bee is shown by the fact alone that after this "compulsory break" in Austria in 1948 there were 5 recognized Sklenar mating stations, 2 for Troisek and none for Peschetz.
Also 1945 was a fateful year for Councilor Guido Sklenar. His house, for the construction of which he set aside every spare penny already at a young age, burned down to the ground and Guido Sklenar literally became a beggar overnight. He and his family only had what they were carrying. Luckily, the aloof bee house was spared, so Guido could at least continue the breeding work with his own material. Two microscopes, typewriters, breeding equipment and much more were lost forever. A special loss for us survivors, the guest books, the personal correspondence with all the great breeders and professionals of the time.
But as early as 1948, the newly built house, more beautiful and larger than the one that fell victim to the flames and a cultivated apiary for 100 hives, was ready for occupancy and the operation could be continued in full. 1948, on 15 August on the occasion of Agricultural u. Trade exhibition from Lower Austria Association in Mistelbach there took place a large beekeeping conference, attended by over 300 beekeepers.
During this convention Ec. Councilor Guido Sklenar was honored from the President of the Austrian Beekeeping Association Prof. Plankh with the "Golden Weippl badge" in recognition of his pioneering work in the field of queen breeding. Ök. Rat Sklenar is thus the first bearer of the highest distinction awarded by the Austrian Beekeeping Association.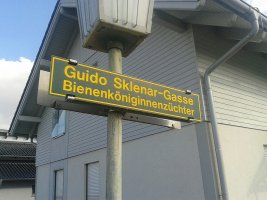 Guido Sklenar was a heavy smoker throughout his life, the consequences could not be avoided and the heavy blows he had to face during his life, as well as the constant work overload also took their toll. Since he knew his life's work was in good hands, daughter Hansi was a lifetime collaborator of her father and son-in-law OSR. Dir. Hans Weber, since 1947 head of the mating station and also in the breeding business, it was not difficult for Sklenar to hand over the breeding work to his children. He only takes over more, as he himself writes the "Supervision" and spends most of his time despite old age and ailing health behind the typewriter.
He has been contributing for decades to many specialist papers, corresponded with many experts of the time and also answered the many requests that beekeepers made to him. To get an idea of ​​the extent of correspondence from Ec. Councilor Guido Sklenar, it should be mentioned here, that according to the post office book in the strongest year over 5,400 postal items left his house. In his guest book, unfortunately only from 1948 onwards, have registered annually over 600 visitors.
1953 May 26 Councilor Guido Sklenar dies after prolonged, severe suffering shortly before his 82nd birthday, and was buried at the municipal cemetery in Mistelbach on May 30, 1953. An immense number of mourners, mainly beekeepers , had come by their "master" as Guido Sklenar was affectionately called by his followers to say goodbye. The president of the Austrian Beekeeper Association Councilor Prof. Dipl. Ing. Planckh thanked in his funeral oration Guido Sklenar for his tireless work for the benefit of beekeepers around the world.
From the many condolences and obituaries in the most diverse newspapers it can be seen, what great loss the beekeeping world experienced by the death Sklenar's, because never before in the German-speaking world gave a breeder, to whom one had so much confidence and affection. Today there's even a road in Mistelbach named to Sklenar.
Content for the most part thankfully provided by beekeeping master Anton Schleining. Translation and revision by beekeeping master Ing. Franz Obendorfer