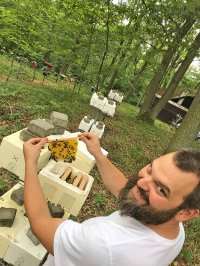 We are a professional beekeeping family business located in Wilfersdorf near Mistelbach in Lower Austria and care for around 150 clolonies. One branch is honey production for our brand Blütengold®. In our region we only harvest blossom honey in different types (robinia, canola, sunflower,...).
Besides honey business we are also a bee breeding company. Our main focus is on carniolan bess of the 6 Sklenar - lines. Through the last years we could ship our queen bees to customers in more than 15 countries.
Our Location is situated only 7 kilometers away of isolated queen mating station Hirschgrund, where Ökonomierat Guido Sklenar worked as manager of the mating sation. The station is located in the forest of Mistelbach, the neighbour town of our homevillage market town Wilfersdorf. Even Guido Sklenar lived around 1890 four years long in a village of our home town. So for that geographicle reason alone we have a deep connection to the world famous Sklenarbee.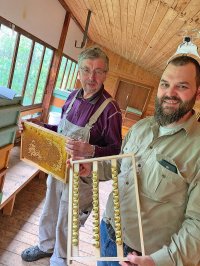 Our breeding work goes hand in hand with beekeeping past-master Anton Schleining. He has even got his own queen genetics from Hannerl Weber-Skelnar, daughter of Guido Sklenar. beekeeping master Schleining led Hirschgrund between 1985 and 2014 himself. Through these 30 years he took care for the father colonies and could so further improve the breeding selection.Through his rigorous selection process, he has managed to make the lines very consistent and far more stable. We owe it to him that today we have a Sklenarbee that is very gentle and delivers great honey yields.
Personally, I am proud to work with Guido Sklenar's original genetics and to have one of the most experienced beekeepers of our time as mentor.
I invite you to look around the website and I would be glad about any orders or inquiries!